SnagIt Screen Capture Plugin for Windows Live Writer

© West Wind Technologies, 2005-2012
License: Free use and modification
Requires: Windows Live Writer and TechSmith's SnagIt 7.0 or later


Screen captures are important when creating Blog content and having an easy way to capture images from the screen in a variety of ways and embedding them into a blog entry is a key feature. TechSmith's SnagIt is an amazing tool for capturing screen shots and marking up and editing captures easily with their built-in image editor. And now you can use SnagIt directly from within Windows Live Writer with a couple of clicks to directly embed images into your Blog content.

This plug integrates SnagIt directly into Microsoft's Windows Live Writer blogging client software and provides these features:

Captures screen shots with many of SnagIt's options
Lets you utilize the SnagIt image editor for customizing captures
Embeds captured images directly into Blog posts
Reduces image clutter by optionally not saving images separately from Live Writer
Lets you configure capture preferences
C# Source Code available

Here's what the plug in looks like in Windows Live Writer: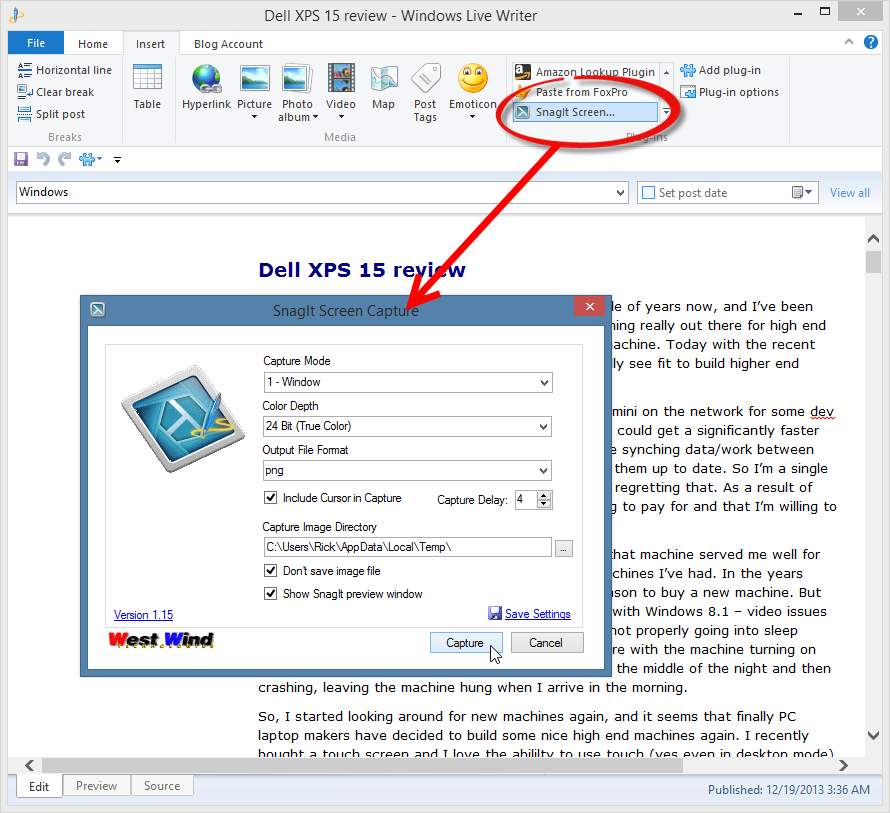 Clicking on the Insert SnagIt Screen Capture link causes the above dialog box to pop up which allows you to configure various common SnagIt capture options. Clicking Capture then activates SnagIt's capturing engine using the standard SnagIt selection mechanisms that allow you to select - in this case - the window to capture. Most of SnagIts native options are available through this interface.

By default the settings made on the above dialog are not saved, unless you click the Save Settings button which persists the settings for future access. Once saved the saved settings become the default prefilled settings.

Images can be captured and optionally do not need to be saved to disk permanently. Checking the Don't save image file option will capture the file to disk and let Live Writer pick up the image for internal storage, but the actual captured image on disk will then be deleted so you don't clutter up your drive with captured images.

The plugin comes with the C# source code so you can customize the tool as necessary.


It's Free and comes with Source Code
This is a free utility. Use and distribute it as you like. It comes with all C# for the Live Writer Api so you can customize it as needed. If you want to find out more about how the plugin is built you can visit the release blog entry.

Aloha,

+++ Rick ---