Free Download |


West Wind ASP.NET 2.0 Compiler Utility





© West Wind Technologies, 2005-2008
License: Free use and re-distribution
Requires:
Microsoft .NET Runtime 2.0 or later, must run as Admin User


Visual Studio 2008 or Visual Studio 2005 with

Web Deployment Projects

This utility lets you:

Compile ASP.NET 2.0 and later projects with a Visual UI
Interactively set compiler settings
Create and save multiple Compiler Configurations
Create Batch Files from the options set in the UI
View compilation errors more easily
Run Configurations in Command Line mode (not available yet)
Works with Web Deployment Projects for single assembly compilation
ASP.NET introduces a new compiler model in ASP.NET 2.0 which is powerful and flexible. However, deployment of applications with ASP.NET 2.0 has gotten a little more complicated and if you plan to pre-compile your Web applications, you pretty much need to use the ASP.NET Command Line Compiler to take advantage of all the options available.
The Command Line Compiler has a number of options, and this small utility lets you interactively set them as well as saving your settings for multiple configurations. The utility also shows you errors and warning more visually than the command line view.
This is a no hassle single file utility you can just use instead of the aspnet_compiler.exe command line utility. Here's what the user interface looks like: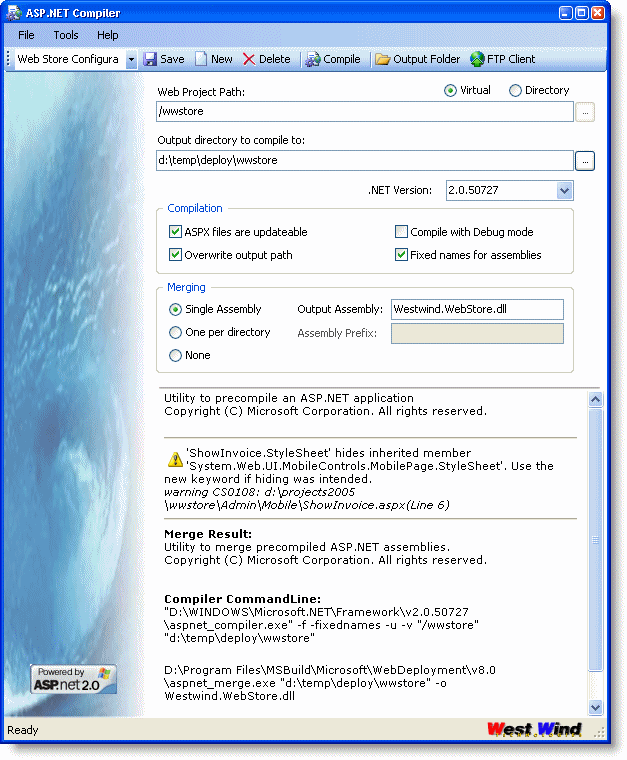 Support for Web Deployment Projects

Microsoft released a utility to help with ASP.NET 2.0 project compilation. Among the most useful features of Web Deployment Projects is the ability to truly compile an application down to a single assembly (although there are still a few support text files). This utility works with Web Application Projects and drives it through a command line interface to produce a single output assembly.

If you're using Visual Studio 2005 you can download Web Deployment Projects here. If you're using Visual Studio 2008, the ASPNET_MERGE.EXE file installs with the .NET Windows SDK and so is available automatically. Note that Web Deployment Projects are not available for Visual Web Developer unfortunately. However if you can track down a copy of ASPNET_MERGE.EXE you can put it in the same path as the AspNetCompilerUI.exe executable which will then be used for merging.

Note that that ASPNET_MERGE.EXE is required for the Merging features of the tool to work. If it is not installed those features are disabled, but standard compilation continues to work.


It's Free
This is a free utility. Use and distribute it as you like. All I ask is that if you have problems that you let us know by posting a message on our message board.
Aloha,
+++ Rick ---

Version 1.30 released!


1/26/2008
Updated version supports Visual Studio 2008 and Web Application Projects, as well as Visual Studio 2005 with Microsoft Web Deployment Projects. It also adds tool options for going to the deploy folder and optionally launching your FTP client.
Free Download
You can download the utility and use it and redistribute it freely. The download contains the EXE and a help file for documentation.







If you find this tool useful consider making a small donation to support improvements.


We want your feedback
If you are having problems, questions or have suggestions on how to improve the functionality we provide, please let us know so we can either fix or improve our product to address new scenarios.