Free Download | Documentation | Source Code Version


West Wind Web Configuration Utility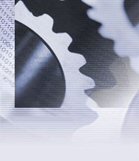 © West Wind Technologies, 2004-2011
License: Free use and re-distribution
Requires: Microsoft .NET Runtime 2.0 or later

Ever need to quickly install a Web application on a different server? You copy files and then you start fiddling with IIS to create a virtual directory, set directory permissions, possibly configure your Visual Studio.NET solution file to run in the different application path or configure MSDE/SQL Server to create a accounts? If you do this a lot this utility is for you.
I write a lot of samples to hand out and I usually have a _README.TXT file that explains exactly what to do to run the Web application as a sample - this utility automates this process by creating a configuration file and presenting a UI to the user to make a couple of pre-set choices. Or if you choose you can 'just do it' by running in Command Line mode using the XML configuration file for settings to apply.
Here's what the UI for this application looks like: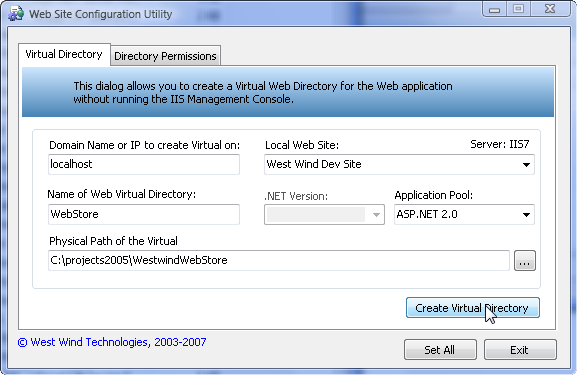 This first page lets you configure and create a virtual directory from a single page. You can select a server, a site, the .NET version (for IIS 6 and prior) and an Application Pool (for IIS6 and 7).
You can also set directory permissions which is common as you need to configure IUSR_ access and possibly rights for ASPNET/NETWORK SERVICE to access the Web Directory.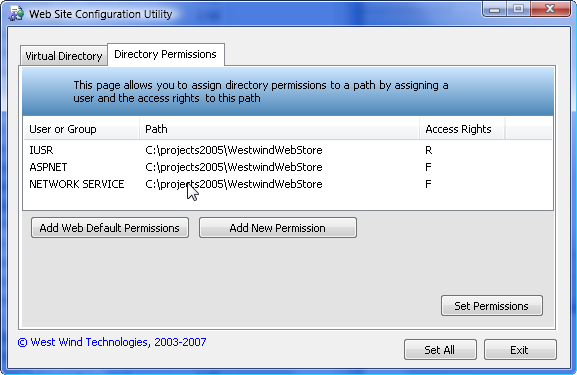 This optional dialog - which can be disabled in the configuration file - shows IUSR_ and NETWORK SERVICE/ASPNET accounts by default but you can set any user accounts. You can add any accounts and set Read, Write, Change or Full permissions for the Web directory and its sub directories.
Finally you can also set some basic SQL Server security settings that make it easy to allow MSDE/ SQL Express to run with Windows Authentication or add users to the server so you can create and run new database scripts.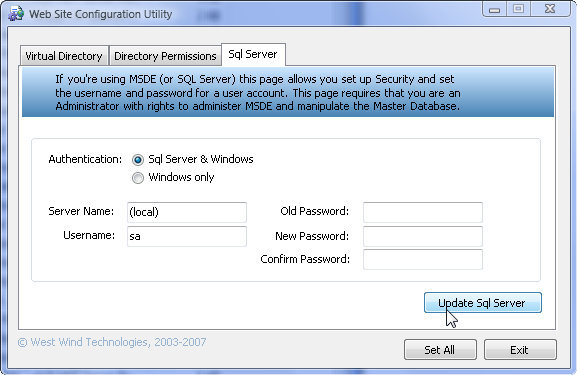 This page is also optional.
Any settings made are saved and stored in an XML configuration file, and can be packaged with your application. Next time the application is run the settings are remembered. All paths are stored in relative format so if you run the tool on another machine it will properly update the appropriate paths.
You can choose which of the tabs to display and pre-configure the various settings displayed on first run. The EXE takes your preconfigured settings and the end-user will see the UI preconfigured with these settings.
You can now copy your files to a server and have users run this utility either with the UI or without and you're done. No installs required (as long as XCOPY deployment is used). The UI is somewhat customizable so you can specify your own caption and you decide which tabs are actually displayed. The only required tab is the Virtual Directory tab.
Source Code is availabe
The utility itself is free. Use it, distribute it and use it as is. It's your's to do as you see fit.
But we've also made it available as a for pay version that includes the source code so you can customize the user interface or the operation for your own applications. The source code includes all the C# source code for the base components that handle the following:
Creating and configuring Virtual Directories
Setting Directory or file permissions
All the user interface code


Version 1.20 released!

1/2/2011
Added Application Pool selection and IIS 7.0 support.
Free Download
You can download the utility and use it and redistribute it freely. The download contains the EXE and a help file for documentation.







If you find this tool useful consider making a small donation to support improvements.



Check out the full documentation online
The documentation is available online, so you can get a quick feel of the functionality available.

We want your feedback
If you are having problems, questions or have suggestions on how to improve the functionality we provide, please let us know so we can either fix or improve our product to address new scenarios.

Buy Source Code Version
The Configuration Utility is free, but if you want to customize the application's look and feel or you want to modify the default behaviors - for example the attributes for the virtual created, or the default permissions added - you can do so with the source code version.